Only a short ferry ride from Gourock (or a longer but scenic drive via Arrochar at the head of Loch Long), the Scottish west coast Cowal Peninsula boasts some of the best roads and scenery for cyclists in Scotland. It surprises me how there can be so many pot-holes on roads this side of the mainland, yet such smoothly tarmacked roads across the Firth of Clyde.
The Cowal Peninsula is an area of great beauty with hills, mountains, glens, lochs and rivers aplenty. In fact, I had not visited for a few years and my trip this week confirmed that I have been missing a few treats.
Quick geography lesson
The northern part of Cowal encompasses the more mountainous landscape of the Argyll Forest Park. Numerous rocky, craggy and rounded mountains provide gorgeous The Hobbit-style landscape views for visitors.
Cowal is separated from the other long-legged stretch of land, the Kintyre peninsula, to the west by Loch Fyne and from Inverclyde and North Ayrshire on the mainland to the east by the Firth of Clyde.
Two sea lochs, Long and Goil, are situated to the north-east, while the south of the peninsula is split into three forks by two further sea lochs, Striven and Riddon. The Isle of Bute lies to the south of Cowal, separated from the peninsula by the Kyles of Bute.
New Cowal Peninsula Sportive
On August 22, 2015, the inaugural Cowal Peninsula Sportive takes place. There are two routes, both on fantastic courses, of 31 miles and 76 miles.
Cowal Peninsula Grand Course of 31 miles (50km) with 1567ft (488m) of ascent. See route
Cowal Peninsula Epic Course of 76 miles (122km) with a total of 6723ft (2050m) of ascent. See route
The Epic route incorporates the route of the Grand route and yesterday I headed to Dunoon to see what it's like to ride.
Riding the Cowal Peninsula Epic Course
As my friend Nick and I rested our bikes against the railings of the Argyll Ferry, which heads from Gourock to Dunoon town centre, he sniggered a bit at the size of my "dinner plate" gears.
I have a new Giant bike and it comes with some very useful easy gears. Nick's bike was sporting smaller cogs – smaller equals harder to ride – and he wondered out loud if I'd need my 32-tooth cog. I just smiled to myself.
And, at the start of this 76-mile ride, I certainly did not need to resort to any of my easier gears. As we rolled out of Dunoon in a north-westerly direction the smooth and almost flat road offered a fast ride and I used only my larger front cog and a few cogs at the rear.
Having a larger person along with you also offers the chance for drafting their slipstream and with a slight headwind I took full advantage. If Nick wanted to laugh at my "dinner plates" then I figured he was looking for a more challenging ride so why not let him ride at the front and take the brunt of the wind?!
Although this is a main road (A855), the traffic was not too busy and what did pass us seemed happy to do so with patience. I really noticed the courtesy of drivers wherever we cycled on this peninsula, which was very refreshing.
After about four fast and flowing miles the route turns right on to the A875 and continues to flow along the eastern shore of Loch Eck. The next six or seven miles whizzed by with Nick at the front and favourable sunny and light winds.
Leaving Loch Eck, the route turns right on to a singletrack road and immediately ascends around 400ft to 545ft. Suddenly my easier gears felt like a blessing to me – and, no doubt, like an injustice to Nick. As I span an easy gear and headed fairly easily upwards he was forced to push hard on his gears. Still, he's a guy and they are meant to have stronger legs!
What does make me laugh, however, is that in many sportives that have hill climbs the people with easier gears end up spinning past the "strong" guys. Although, the disadvantage comes on the descents when the bigger gears of the heavier rider help to propel them faster downhill.
Despite the stiff climb the top came fairly easily on fresh legs and the views as we descended a very winding road south towards sparking Lock Long were breath-taking. I had much longer to enjoy the views than expected when Nick suddenly realised he had a puncture.
Fixing a puncture on a Scottish lochside
If you know the west coast of Scotland, a puncture on a lochside amid trees and on a warm and muggy days means one thing: Midges. Poor Nick was forced to stand still while he sorted his tyre and inner tube and faced being eaten alive by the wee biting beasties. I helped as much as I could until they got the better of me and I gently rolled too and fro along the stretch of road to create enough breeze to see off the midges.
I advise that everyone become as speedy as they can at fixing and puncture – and carry a small tin of anti-midge spray, such as Smidge.
Much of the this section of the course, which is also the route of the Sportive Grand, is flat and easy going. We hugged the shores of Loch Long and turned west along the Holy Loch.
I didn't tire of the view and could see across to the mainland Kilcreggan Peninsula near Garelochhead.
Rejoining the main road again for a short spell the Epic course then turns on to the B836. This is a mostly single track road through forestry, with some short sections of two-way traffic. The tarmac is fabulously smooth in the main and the majority of drivers who passed either way gave us room to cycle by thanks to regular passing places.
This is a section that involves a lot of gear changing as you ride generally upwards to a height of 455ft but over many smaller hills. There was a bit of a headwind but I reminded myself that the return came back this way and would be with the benefit of a tailwind.
At 25 miles the route turns on to the A886 and then quickly on to the A8003. After seven miles another turn took us on to the smaller B8000. A generally downward spell comes to an end at 40 miles before a stiff climb over a gradient of 20% took us uphill for two tough miles.
Engaging my largest "dinner plate" I slowly meandered upwards. I was grateful for the easier gears but it still felt like hard work. The views were also a brilliant diversion. But I was now beginning to feel hunger pangs and the few snacks I'd already eaten were not enough. We needed lunch!
However, there was still the longer but shallower hill climb over the pass to Tighnabruaich. I have ridden the section several times before as part of a number of self-created ferry island and peninsula routes. While it's a bit of a slog to ride uphill for so long the vista across the Kyles of Bute is truly spectacular. This is what kept me going as I spun my legs ever round and round.
I am sure that by now Nick's harder gears must have been annoying him but he said nothing and pushed on ahead of me. Maybe the call of lunch was stronger for him. I also stopped a couple of times to take photographs. (It wasn't for the breather, you should know, but to have photos for this blog!)
Downhill to lunch
The ride from the high point of just over 500ft was fantastic. The route whizzed us downhill and into the seaside village of Tighnabruaich where we came across a lovely tearoom. When you are riding the sportive you'll no doubt have the benefit of food stations but we had to find our own food.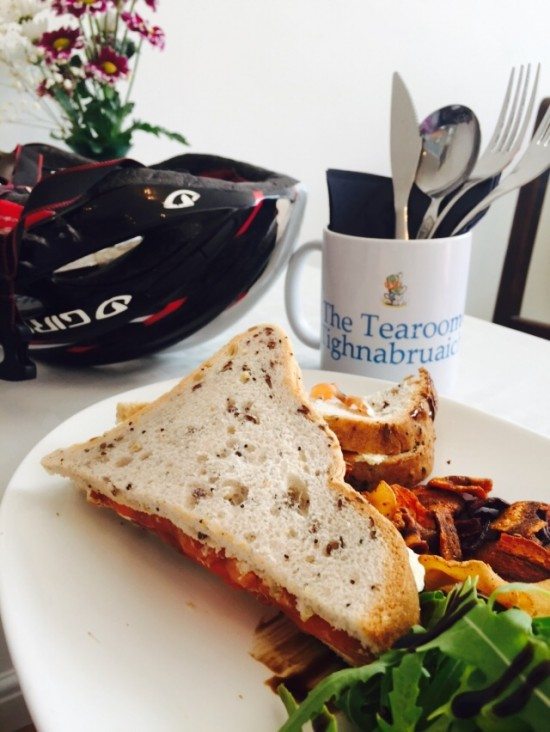 I would highly recommend the Tighnabruaich Tearoom. The menu was really good and our sandwiches (mine was even made with gluten-free bread) were great. We also had colas, coffees and cake. Cycling uses up a lot of calories although I did rue my cake greed when we met the next hill.
The final half of the ride
Tighnabruaich marked the 45-mile mark and more than half way. I always prefer to have lunch at just past the halfway point because it helps psychologically. Heading south through Kames and then west to Millhouse and north over remote hills and moors to Drum the route was very up and down. Just as you felt like you were enjoying a downhill the up would begin again.
I quite enjoyed the section although I could feel my legs tiring. I don't think I have ridden the roads here before and I was wowed by the gorgeous scenery. The views over forest and moors give way to the sea loch of Fyne, between the Cowal Peninsula and the more westerly Kintyre Peninsula. On this (rare) sunny day the landscape was magical.
At around 50 miles and close to the settlement of Kilfinan the route begins a long climb again. From 57 to 60 miles, and just past Otter ferry, the course climbs to its highest point at 1046ft, from 239ft. This was a real test for the leg muscles after so many miles and hours of riding.
We each set our own pace and plodded upwards. I was dreaming of the downhill and a large ice cram cone. (I never did get the ice cream but it provided a lure to drag me back to Dunoon.)
The descent was fantastic. The road twisted and turned downhill through a truly gorgeous scenery of trees, hills and water. We turned back on to the main A886 for a short time and then on to the B836. This was the 10-mile tailwind section I had been looking forward to and it didn't disappoint.
I was able to push down through harder gears and really enjoy the generally downward route along singletrack tarmac. I had to slow a few times to let cars safely pass me at dedicated passing places but for the most it was fast and slick riding. The courtesy of drivers was excellent except for one or two who tried to drive past too fast. At one point as lorry even reversed to allow me through before him.
My only major complaint of this section was the amount of midges that flew into me. At first I thought it was just the light spits of rain on my leg and face but I looked down to see dozens of the black beasties all over my skin. I was amazed, when I stopped to wipe them off, that my speed at impact had not killed them. A few were still alive and probably keen to bite me. I was thankful for my sunglaases for keeping the midges out of my eyes. Amazingly, I incurred only a couple of bites during the whole ride.
Another short ride on the A815 was followed by a left turn on to the A815 and a beautiful early evening cycle along the bay towards Dunoon. An Argyll ferry (there seems to be one about every 20 minutes) was just arriving as we retuned to the pier and we were able to walk on and enjoy the short journey back across the Clyde to where the van was parked.
The ride overall was superb. The weather was perfect and the road surfaces and route are mostly excellent. I only wish I had spent more time in the last decade riding this beautiful peninsula. I wonder if Nick wished he'd had a slightly larger back gear cog for easier miles. (I didn't ask in case he thought I was being smug!)
I found the ride to be just about within my capabilities (with a few easier gears) and despite not doing a great deal of hill training on my bike this year.
Why not see for yourself by taking part in the Cowal Peninsula Sportive next month? It's £25 to enter.
The ferries to Dunoon
There's the foot passenger ferry run by Argyll Ferries. One of the crew said they could fit dozens of bikes on to this ferry. They run every 20 or 30 minutes in high season and take about 25 minutes to cross the Firth of Clyde. The cost is £4.50 for a single (bikes are free.)
Western Ferries has a car and foot passenger service between Gourock and Dunoon, too. At peak times there are four sailing per hour. A single ticket on foot (bikes are free) is £4.40.
A successful Dunoon Dynamo Moon Ride took place recently. There was also a Dunoon Ride and Run in March.
For other ideas about things to do and events near Dunoon see Dunoon Presents.