FionaOutdoors ranked UK's No1 blog
I am not one for obvious self-promotion. Although, sometimes it's necessary because I do not have a PR working for me. However, something nice has happened.
Apparently my blog has been rated 25th out of the top 100 outdoor blogs in the world – and number one in the UK.
Blogs have been rated on Search Engine ranking; Social media influence; Social media buzz; Alexa Ranking; Post frequency and Quality score by an editorial team at Feedspot.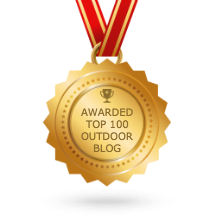 I post this with a pinch of salt because there are some excellent blogs and websites that do not appear on the list and also Feedspot want promotion from bloggers on the list. See Top 100 outdoor bloggers
Anyway… it's still rather nice to be the UK's number one outdoor blogger.