Looking in my diary last week, I spotted a date planned months ago to walk the Isle of Arran mountain Goatfell with a friend Alison. She had made a date with her friend Liz and I had invited myself along. I have walked and run Goatfell many times before but I fancied the idea of an early May walk with a friend and a chance to make a new friend.
But then we went into lockdown 2020 due to the coronavirus pandemic. Everything that had been planned for the hills and mountains, including the trip to Arran, a weekend on the Isle of Jura, the Cuillin in Skye etc has been cancelled or postponed.
I was disappointed, but rather than getting down about this, I suggested to Ali and Liz that we each climb the same height as Goatfell (874m) on a local hill over the weekend. I called it Goatfelling (rather like Everesting).
Both Ali and Liz were immediately taken by the idea and set out to find a local hill/slope on which to repeatedly walk up and down to accumulate the total ascent of 874m.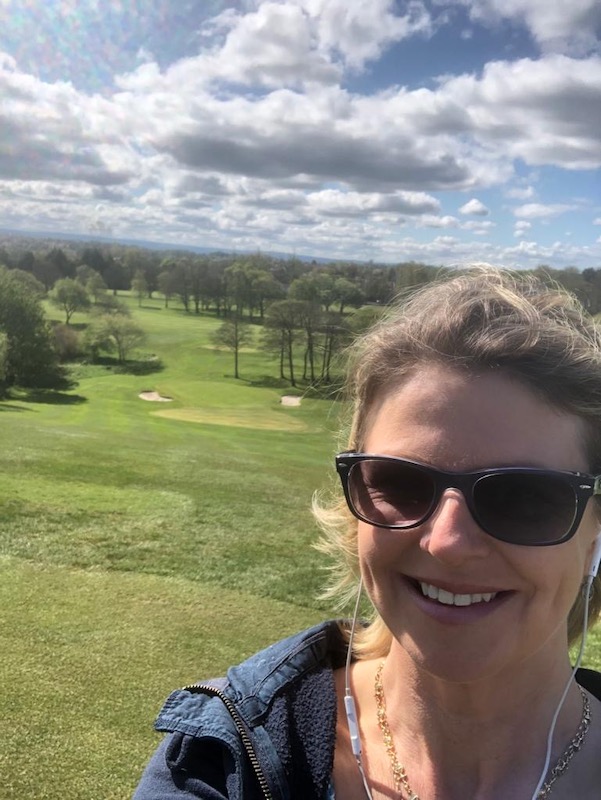 Another friend Beardy heard about our #Goatfelling plan and decided to join in, too. He called it "Doing a Goat"!
My hill was also close to home. I have discovered Castle Hill, on the outskirts of my Bearsden suburb, for running and walking only since lockdown and it seemed to me to be my best bet.
Looking at the OS map, Castle Hill seemed to have a height gain of about 60m on the south elevation. The 118m tall hill was once the location of a Roman fort (the ruins have disappeared) and is located on the route of the Antonine Wall.
We all decided to #Goatfell in our different locations on Saturday.
Different ways to Goatfell virtually
Ali and Liz both live close to golf courses. They chose a hill slope that was easily accessible from their homes. Ali worked out by using a bike Garmin gadget that she would need to climb a slope 38 times. Liz reckoned her slope would need to be ascended around 50 times.
Beardy chose a steeper and shorter slope in Cathkin Braes, near his home. With a 48m ascent, the full Goatfell required just over 18 laps and about 10km of ups and downs.
My Castle Hill #goatfelling challenge was a little more complicated. While the map suggested an elevation gain of about 60m, my first climb with the Suunto Spartan watch showed only 50m.
On the second lap, my watch then revealed a total of just 87m for the two ascents. I knew something wasn't right at that point.
I reverted to a check of the next lap on my OS Map app. This showed a height gain of 58.8m, which seemed much more likely. Sadly, I had not been collecting data on my phone app for the first two laps and so I needed to rely on my watch for the overall proof of finish. (I guess I could have proved it to myself in the knowledge that the OS map was most likely the most accurate but my brain till said I had to have a record on my watch!)
By 15 laps I had achieved the 874m and #goatfelled, according to the OS map.
To complete the Goatfell according to Suunto, it took another six laps and a total of 22 laps. This required more than 22km of distance up and down the hill.
Various people have explained to me why there might be differences in recorded elevation of a variety of devices and it seems to be to do with GPS, my location, where the satellites are and the magnification of small errors on repeated short elevations.
By my calculation, if we use the OS map as the fact, I climbed 1250m of ascent, which would be closer to a day on Ben Nevis walking the tourist trail. So, I could say, I both "Goatfelled" and "BenNevised".
Anyway, it matters not because it proved to be a good and enjoyable challenge on a lovely sunny day in lockdown.
Reasons to love #Goatfelling or Doing a Goat
I love a physical challenge and if I have a target, I have a purpose. It might seem odd to repeat the same hill multiple times simply to reach the height of a random mountain in Scotland but once the seed of the idea had been planted it became a great focus.
It is important to stay local during the COVID-19 pandemic for a whole host of reasons but that means it can be difficult to find similar challenges to those I would normally enjoy in the hills and mountains. Choosing a local small hill (only 118m summit) meant I could stay local and stay safe but still enjoy a challenge.
Knowing that my friends were also Goatfelling made it a better experience. I greatly miss seeing friends in person but because we were all Goatfelling on the same day, it meant I felt closer to them somehow.
My hill allowed me to easily social distance. The rule is 2m or more and because the path is wide on Castle Hill, I was not worried about getting too close to other people.
I walked and talked with friends while I Goatfelled. Walking and talking with friends in their locations (I use bluetooth headphones) has made lockdown much more bearable. Because I had so many laps to do on Castle Hill, I knew I needed to pace myself and this meant I could chat to people while I walked or jogged downhill. It felt a bit like a day out with a group of friends.
Goatfelling is a good test of endurance. I ran to the start of Castle Hill in Garscadden Woods as a warm up. Then I ran the first few laps up and down. I quickly realised that I would need to pace myself a bit more so I chose to walk fast uphill with some running and then jog back downhill.
Goatfelling is a good test of determination. At the start, the task seemed enormous especially as it began to dawn on me that I might need to Goatfell twice (once for the OS map and once for the Suunto watch) but I tried not to think of the bigger picture. I broke the ascents into fives. "Just five more," I said to myself.
Ali was very systematic with her 38 ascents. She did seven laps before breakfast and then aimed for six laps per stage of her "Goatfell". She also stopped halfway for a lunch break.
There was no need to rush. I had initially thought the full Goatfell my take about 2.5 hours but in fact I was on the hill for about 4.5 hours. This wasn't because I was much slower on each lap but because I took the time to chat to people who were curious about my repeat ascents. I also met a friend, Marco, who was running a big loop through hills and parks and as seems to be the way in lockdown, people are so much happier to stop for a much longer chat.
In addition, I stopped to take photos, look at the views, study wildflowers and shoot some video.
My preparation wasn't too clever. Because I had not calculated the distance and time before I left the house, it turned out I did not have enough food or water with me. I managed to finish, but by the end I was feeling nauseous and I really required water and snacks. I also felt like I had had a but too much sun although remarkably I wasn't sunburnt.
The sense of satisfaction from Goatfelling was surprisingly good. Basically, i spent many hours yesterday ascending and descending the same small hill. To many people, this might seem mad and boring. In fact, it didn't feel boring in the least and I enjoyed pushing myself to keep going despite tiring legs. It also kept me going, knowingthat my friends were doing the same, at the same time.
I would have much preferred to be on Goatfell itself with friends. Of course I would! There is nothing I like more than to be in the hills and mountains with Hubby G or my friends, but #Goatfelling felt like a good compromise.
"Doing a Goat" has now become the term among my close running friends for doing the same thing but separately. Soon enough, I hope, we will again being "Not Doing a Goat" when we can finally regroup and run again with those we most like right next to us.
Keep an eye on this website and my YouTube channel for a #Goatfelling video that I plan to create soon.