'It is actually very steep': Corbett Stob a'Choin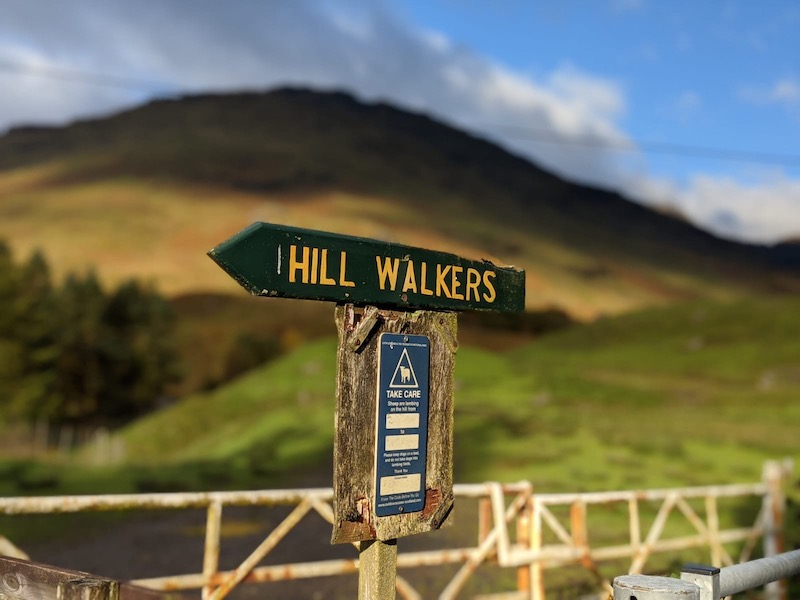 I read "very steep slopes" on the Walk Highlands website when describing Stob a'Choin and thought to myself: "I bet the gradient won't be too bad." My friend Ben thought the same. The reality is that this walk follows a sustained and very steep gradient. You have been warned!
Start/finish: Car park close to of Inverlochlarig
Distance: 6.5 miles / 11km
Height gain: 790m
Summit: 869m.
Walking the Corbett Creag nan Gabhar
Ben and I had been eyeing this walk for a while but the lack of a bridge over a wide river had stopped us trying the route. Suddenly, at the end of the summer we checked the route again on Walk Highlands and there was no longer mention of the broken bridge.
I can confirm, there is a lovely new bridge over the river.
It's also worth noting that the car park serves other mountain walks and with far more people accessing the outdoors and many people driving without a passenger to a walk during the Covid-19 pandemic, it becomes full early in the day. If you want to be sure of a parking space, go very early.
Note: Other mountains that can be walked from this car park include the Munros, An Caisteal, Beinn a'Chroin, Beinn Tulaichean, Cruach Ardrain, Ben More and Stob Binnein.
Saying that, there were very few people on "our" Corbett. I presume the many others were on the Munros.
The walk starts on an easy-going track through a beautiful glen. We followed this track until we reached the new wooden bridge. Once across the bridge, we stepped over and fence and then, well, we simply headed upwards.
There isn't a clear path and the aim is to climb upwards while traversing in a south-westerly direction. It is steep and relentless.
We made sure to keep an eye on the map and our bearing with the aim of approaching the summit of Stob a'Choin more directly south once we had gained the ridge.
The ridge looks rocky and scrambley from afar but once closer it was manageable.
Finally reaching the top, we had to walk around a bit to various "highest" points to be sure we had gained the true summit at 869m.
The rewards for the arduous climb are the views, especially of the nearby Munros. I love the Corbetts and one of the reasons is that you frequently get great views of the Munros.
Instead of retracing our steps back down the steep slopes – I think both of imagined it being a bit tortuous – we headed eastwards off the peak.
I had been hoping the return would be a gentler affair but to start with we had to descend and then climb again to another high point at Meall Reamhar. I felt abnormally tired and it seemed like a bug effort to be climbing up again, only to descend later.
From here, we headed for a wide ridge line NNE, taking in seemingly endless ups and downs before the final long descent. A fence line offered a useful guide for the descent.
The walk took longer than we would normally allow for 6.5 miles and proved to be a tougher work out than we had expected.
Still, it was a superb outing and with many fine views. Plus, we had been waiting all summer for the bridge to be reinstated so it felt like a triumph to have ticked off this Corbett.
Corbetts bagged: 42.