Sports stars line up at Scottish outdoors event in Glasgow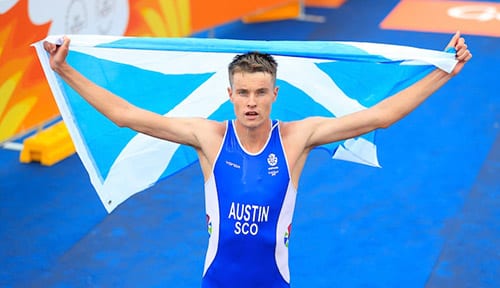 A popular feature of the Scottish Cycling, Running and Outdoor Pursuits Show is the theatre where many stars of the outdoors and sports worlds are interviewed or give a guest presentation.
See information about event, nicknamed SCROPS, which comes to the SEC in Glasgow on March 3 and 4.
Graeme Obree
Back by popular demand for the third year running, legendary cyclists Obree, known as The Flying Scotsman, will again be taking part in the show theatre.
He will chat candidly about his eventful career, during which he twice broke the prestigious world hour cycling record (1993 and 1994) and became World Champion for the 4km pursuit in 1993 and 1995.
He will talk about the highs, the lows and his innovative style of riding that has made him a household name.
He'll also be bringing along his infamous "Beastie" bike for you to check out first hand.
Lee McConnell
Commonwealth medallist Lee McConnell began her career in the high jump before progressing to the 400m and 400m hurdles event.
The Glasgow native has won medals at European, Commonwealth and World Championship level as well as competing in three Olympic Games.
Since retiring from professional athletics in 2014, Lee continues to play an active role in the world of athletics through commentary and punditry roles.
Dr Andrew Murray
Getting outside and getting active is probably the single best thing you can do for your health. You'll improve your chances of living longer and being happier, healthier and more productive.
Dr Andrew Murray is best known as an endurance runner. Notable runs include 4300km from John o' Groats to the Sahara desert; a world first seven ultra marathons on the seven different continents in less than a week; and winning 14 international races at marathon distance or longer.
He is also acknowledged as an expert in physical activity for health, having worked as the Scottish Government's first physical activity champion and currently as an ambassador for NHS Inform and for Merrell UK.
Jenny Meadows
Runner Jenny Meadows is firmly established as one of Britain's leading female athletes. She has represented Great Britain since 2000 when as part of Great Britain Juniors 4x400m relay team they became World Junior Champions.
After winning the European Team Cup and being part of the Olympic team in Beijing in 2008, Jenny established herself as a force to be reckoned with on the national circuit and in the international arena.
Her breakthrough came at the 2009 World Outdoor Championships in Berlin where she won a bronze medal in a life-time best of 1:57.93 and became the third fastest British women of all time.
Since Berlin, Jenny has gone from strength to strength and bettered her indoor PB, first at the Birmingham Grand Prix in February 2010 when she became the British Indoor record holder, and then again at the World Indoor Championships in Doha, where she was awarded the captaincy of the Great Britain team and claimed the silver medal in a time of 1:58:43.
In 2011, at the European Indoor Championships Jenny won Gold for the individual event and silver as part of the 4x400m relay. That year she became British Champion outdoors and won the Diamond League Series.
Jenny was hit by injuries in 2012 and 2013 but made a return to competitive action to become Commonwealth Games finalist in 2014 and the world leader in the women's 800m indoors in 2015.
Not only will Jenny be chatting in the show theatre, she will also be making use of the 40m indoor running track and offering a Running Mechanics session each day of SCROPS.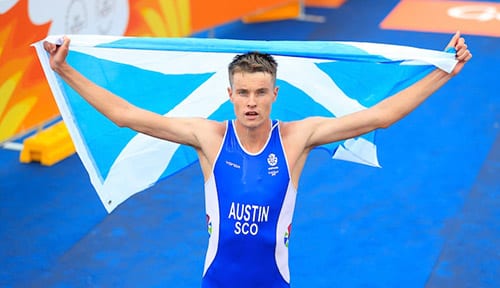 Marc Austin
Top triathlete Marc Austin is a member of the UK Sport Lottery Funded World Class Performance Squad and trains in Glasgow. Marc won Commonwealth Games bronze on the Gold Coast in 2018.
He is now training full-time in his home city of Glasgow, having studied Mathematics at Stirling University while training with the Scottish National Team.
Marc's first passion was running and he took up swimming to boost his fitness. From there he entered the Stirling Aquathlon at the age of 11. After finishing in second place, he turned his attention to triathlon.
Marc had a very successful junior career, winning numerous continental cup junior medals and a silver at the ITU World Championships in Hyde Park in 2013.
The following year he won World U23 silver in Edmonton and had a memorable performance at the Glasgow 2014 Commonwealth Games, where he was part of a three-man breakaway with the Brownlee brothers. Although he was eventually dropped, he won over the local crowd in Strathclyde Park and showed his potential for the future.
At the Gold Coast 2018 Commonwealth Games, Marc secured Scotland's first medal across any sport. He won bronze behind Henri Schoeman, the Olympic bronze medallist from South Africa, and Jake Birtwhistle, of Australia. Afterwards he described it as the "performance of his life".
Sandy Hennis
Six women crossed Antarctica on skis; a feat they were told was impossible. Hear this incredible story from Ice Maiden team member, Major Sandy Hennis.
Since returning from Antarctica, Sandy vowed to inspire more people to get out there and do things they wouldn't normally attempt.
Now in her role as ambassador to ABF The Soldiers' Charity Cateran Yomp – read Cateran Yomp: Ice Maiden calls for more women walkers – where participants are challenged to walk 54 miles in 24 hours across Scotland's scenic Cateran Trail , Sandy will share her tried-and- tested advice on how you can improve your confidence and focus in preparation for that next big goal.
Lots more to see and do
A list of some of the activities on offer at the show.
Indoor Cycling Track
Indoor Bosch M/Bike Track
Tacx Turbo Challenge
New Watt Cyclone Challenge
Indoor Running Track
40m Sprint Challenge
Gait Analysis/Block Tips
60m Indoor Zip Line
Mystery Marathon Challenge
Kids Active Zone
Climbing Walls
WrightSport Triathlon Challenge
Indoor Segway Course
Sports Stars Track/Road/Outdoor
Dry Tri 6 min challenge
Ridgeback kids cycle zone.
To find out more about SCROPS and for tickets see Scottish Cycling, Running and Outdoor Pursuits Show. Kids under 10 are free.