Lairig Ghru: Run-walk from Braemar to Aviemore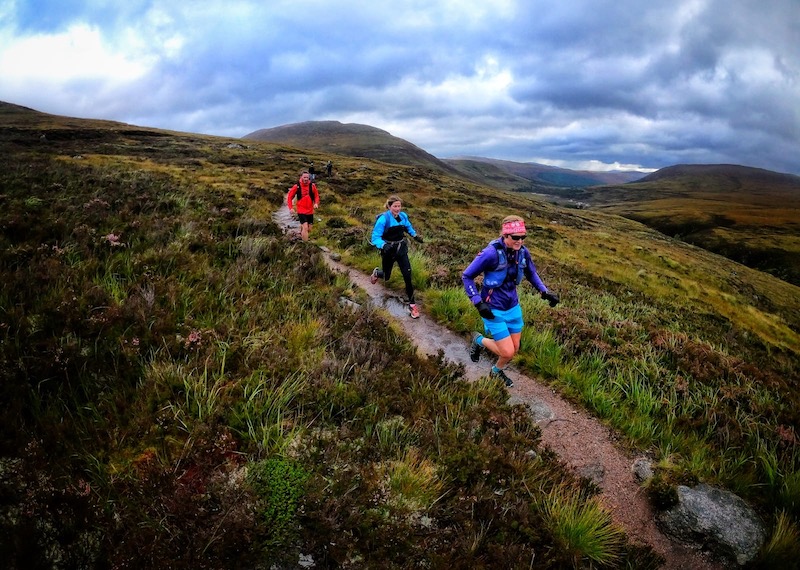 The mountain pass, the Lairig Ghru (Gaelic: Làirig Dhrù), cuts a stunning route through the Cairngorms in the Scottish Highlands, with various different start and finish points.
Historically, the Lairig Ghru was used as a drove road between Deeside and Strathspey. Modern road traffic now travels on the A9 over the Pass of Drumochter or on the A939 via The Lecht. These days it is walkers and runners who follow the mostly well-trodden path of the Lairig Ghru.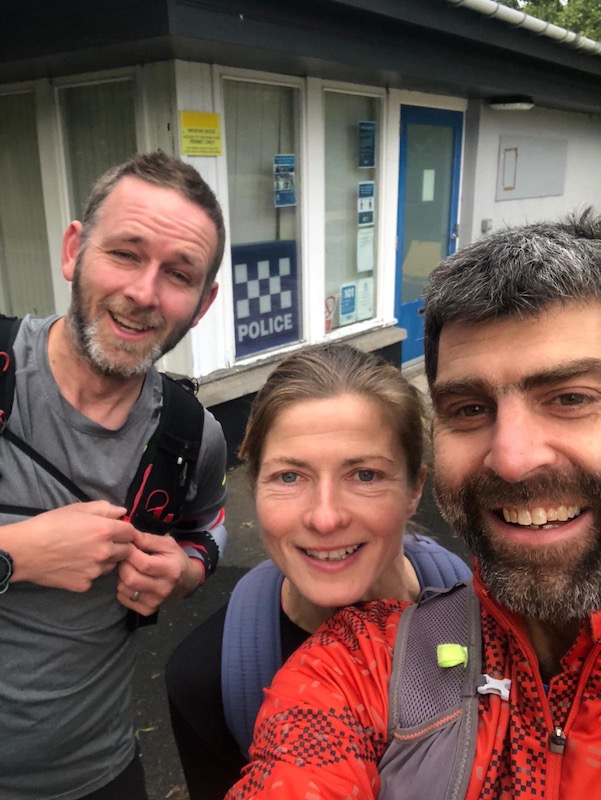 The full route is from Braemar to Aviemore (police station to police station if you want to do the same as the annual Lairig Ghru race). It is reported as being 43km (27 miles). According to our group this weekend, it was closer to 50km, although we did detour to visit Corrour Bothy. The first section of about 8km is on tarmac road until Linn of Dee.
I chose to start at Linn of Dee, through Glen Lui, and finish at Aviemore, which was a total of some 39km. This included the 1km out-and-back detour to visit Corrour Bothy, located below Coire Odhar and between the Munros, The Devil's Point and Cairn Toul. The bothy is maintained by the Mountain Bothies Association. (The bothy is not open for use due to Covid-19 pandemic at the moment.)
Note: It costs £3 to leave your car at Linn of Dee car park for the day.
Route: OS Maps.
See the Walk Highlands route, which finishes (or starts, depending on which way you travel) short of Aviemore at Coylumbridge
Alternative start and finish points include Blair Atholl through Glen Tilt and, in the north, from Glen More through the Chalamain Gap.
The route rises to a high point of 835m and while the path is relatively easy to follow, there are long sections that are stoney and rocky. A testing boulder field slows progress for a couple of kilometres.
These stony moraines are most likely remnants of the glacier that carved the route.
The rest is runnable if you take your time and concentrate on where you are placing your feet. I almost tripped on rocks a few times and, once, went over and landed on my arm and shoulder.
The rain that falls on the southern half of the Lairig Ghru eventually drains into the River Dee, which reaches the sea at the city of Aberdeen. The "official" source of the River Dee is the Wells of Dee, situated high on Braeriach. (You do not visit the Wells on the Lairig Ghru route.)
However, the Lairig Ghru track does pass a series of pools on the southern side of the summit. These are thought by many (incorrectly) to be the source of the River Dee. They are very beautiful and, it's claimed, at least one of the pools is home to trout, although it is hard to believe since the pools have no obvious outflow or inflow. We certainly did not see any trout.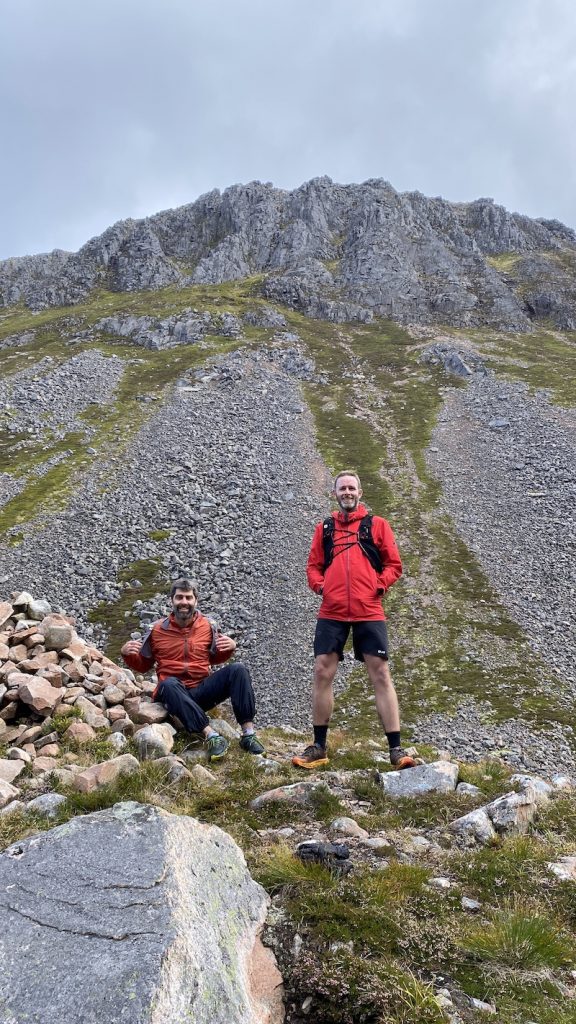 The route is very committing and remote. Once you are walking or running, there are no escape routes, except to turn around and return. The path winds its way below some of Scotland's tallest mountains, including five 4000fters, Cairn Toul, Angel's Peak and Braeriach, as well as Cairngorm and Ben Macdui.
Although staying in a glen, this is a high pass and open to widely and suddenly variable weather.We experienced strong winds and rain higher up the pass, although lower down it was warm, still and sunny.
The views are stunning. From the high summits of the Braeriach traverse to the wide views of the valleys below, the landscape is every changing and frequently dramatically picturesque.
It felt remote, yet rarely too daunting (although we did have fairly good weather so it was easy to see where we were headed. This would be very different in poor visibility.)
The Pools of Dee are gorgeous, especially against the rugged background. The ancient woodland of Rothiemurchus Forest towards Aviemore is spectacular.
I thoroughly enjoyed the run-walk of around 5 to 6 hours. We were not pushing the pace. We walked the hills and ran where it was easy. We chatted, laughed and stopped to take in the views and wait for each other.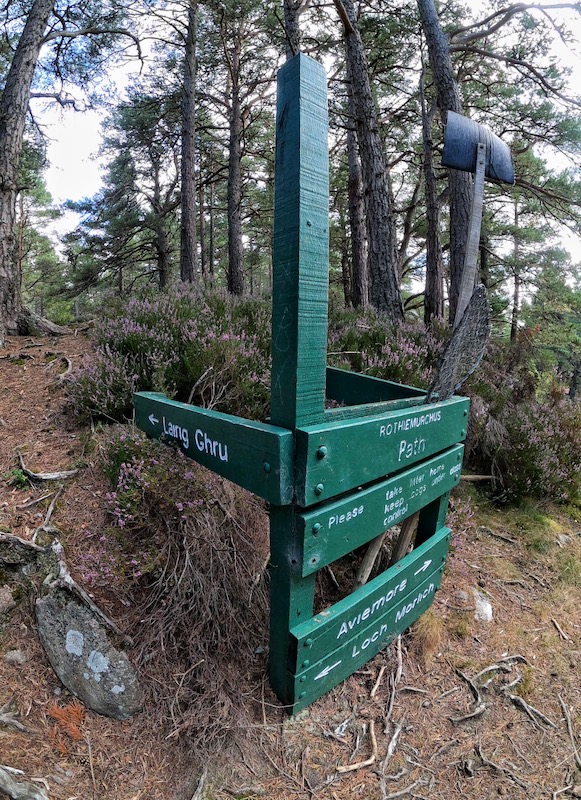 Tips for the Lairg Ghru
Go with friends and arrange to leave a car at each end of the route. It is a drive of almost two hours from Aviemore back to Lin of Dee or 10 minutes less to return to Braemar but the scenery is fantastic.
There is abundant fresh water so while you should carry water, you can also top up very easily.
Take more clothes than you think you will need. The pass is high and the weather is very changeable in the Cairngorms. (See my kit list below.)
Keep a close eye on the route as you run or walk it because there are a few junctions to make decisions at. As well as a map and compass, our group had access to a route download on OS Maps app on a smartphone.
There is a river crossing and in spate this would be tricky. There is a bridge further upstream, although you need to walk a boggy path to get there.
Add extra time to what you might expect to do the route in because it is rocky and bouldery at times and this will slow you down.
Kit list for the Lairig Ghru
This is a list for a day's run-walk. Because we were planning to run and walk we knew we would be faster than simply walking. We also checked the weather forecast and it looked fair so this helped to dictate the kit we carried.
I wore:
Salomon Speedcross trail running shoes (You can buy from Amazon.)
Running socks (I wore socks that I knew would not rub because I had tested them before)
Sports t-shirt
Long-sleeved baselayer
Buff (to keep my hair off my face and my ears warm)
I carried:
Salomon running rucksack (Buy from Amazon.)
Running tights
Lightweight baselayer (just in case!)
Gloves
Lightweight insulated jacket (I like Berghaus Extrem Reversa jacket.)
Silver foil emergency blanket (this lives in my running pack)
Headtorch
Food (lots of it!)
Water flask and 500ml of water
Flexible, re-usueable water cup
Mini first aid kit (painkillers, blister plasters and climbing tape)
Mobille phone (with OS Map app route downloaded and for taking photos)
I debated whether to take walking/running poles and decided not to, but I think I would next time.
Watch this video created by my friend Iain for a brilliant overview:
See more Rugged Scotland videos.