Top tips for running in snow and ice
Written by Fiona
December 22 2010
—
I popped into Achilles Heel, a specialist running shop in the west end of Glasgow, the other day and got chatting to the very amiable owner Katie Alexander. Of course, the main topic of conversation was running. She is looking fit at the moment and she puts this down to the snow!
Like me, Katie has been loving the snow and the chance to run in the snow. "It's just wonderful to be out in the clear air, especially in the early mornings, running through the snow, " she said, grinning widely. "I think that the running, on uneven snowy  and icy terrain makes you work harder and it has been great for my fitness. I'd say I'm fitter at the moment than I've been in a while."
She seemed delighted when I concurred. "Oh, so many other people are complaining about the snow and not being able to run," Katie said. "So it's great to chat to someone who is out enjoying their running in the snow, too."
Just as we were waxing lyrical about the snow, the bright blue skies, the still air and the chance to tackle fantastic off-road routes, into the shop walked one of our mutual friends JoE (she's another of my fab Tri Girl pals). "Oh yes, I'm really enjoying the running at the moment," added JoE. "And it's been even better since my YakTraxs arrived!"
And so the conversation turned to running-in-the-snow gadgets. While I've been mainly using my off-road running shoes (Inov-8 and Adidas) for snow running, the increasing amount of ice on pavements and roads has meant a change of tactics in the last week or so. I am now more likely to run in my "normal" trainers but with the addition of  ice cleats. (I reviewed these last year and I have found them very useful again this year.) The ice cleats are great for running on packed ice although they do make quite a lot of noise and feel rather unforgiving when you then head on to tarmac! My source for these ice cleats, plus a wide range of other snow traction footwer gadgets, is Black Toe.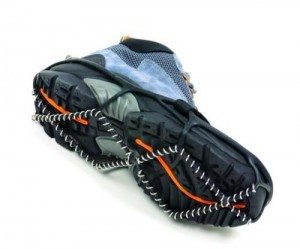 Meanwhile, JoE (and another Tri Girl pal) have been running in YakTraxs. They both swear by them for running on compacted snow and ice. I hope to give these a go if I can get hold of a pair.
It seems that demand has been so high for both YakTraxs and Ice Cleats that it's proving very difficult to locate a pair in the UK.
The same has happened with Katie's choice of running ice cleats. When deciding on the brand to sell in Achilles Heel she went for Due North's version of the ice grip/cleat. "I tried a range and found this one to be the most comfortable and grippy," she said. Last week the shop sold out of all Due North ice grips within an hour of putting them on sale. They now have a waiting list for the next intake of stock…
I notice that on-line stores including Simply Hike also sell Due North ice grips.
All three versions of running-in-the-snow gadgets do the job, according to the keen runners that I know.
Another option is "spiked" orienteering trainers advocated by SuperFit Dave. You'll recall I sometimes run with SuperFit Dave and his orienteering friends in the snowy hills around Glasgow. SuperFit wears studded orienteering trainers that have the useful addition of metal spikes in the soles. I believe he wears Jalas footwear. He swears by these… and given the amount of running  he does, he should know!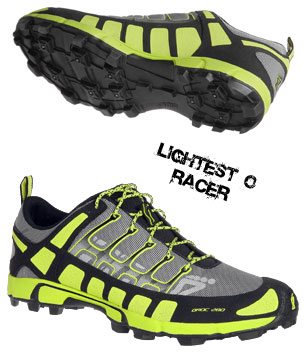 I notice that Inov-8 have also brought out a new spiked orienteering shoe this year called the Orac. I'd love to give it a try! I haven't heard of anyone using this on ice or snow so if you have, please do tell me how you've been getting on.
The most innovative invention by far, however, has to be the "shoe nails"! A friend of a friend decided to go for the DIY snow trainer and very carefully added some nails to the soles of his trainers. He'd heard about someone else adding nails to this mountain bike tyres (the lengths people will go to for snow fun!) and decided to do the same for his trainers. Apparently this option works, although I'd be worried about the nail tops coming up through the inner sole and into my skin. Oh well, needs must!
Anyway, what I wanted to find out from reader runners of this blog is your tips for running in the snow. What gadgets have you found to be effective? Where have you bought them from? What crazy inventions have you heard about? Please do tell me in my comments section.