Croatia for families with teenagers
A family holiday is never easy for us. I like to be busy doing outdoors activities, including cycling, running, swimming and kayaking in the sunshine. I struggle to lie on a beach for more than half an hour.
The G-Force enjoys climbing, kayaking and lazing around. He needs his holidays as recovery for a busy and stressful job.
We both like city culture and history, as well as countryside and coast.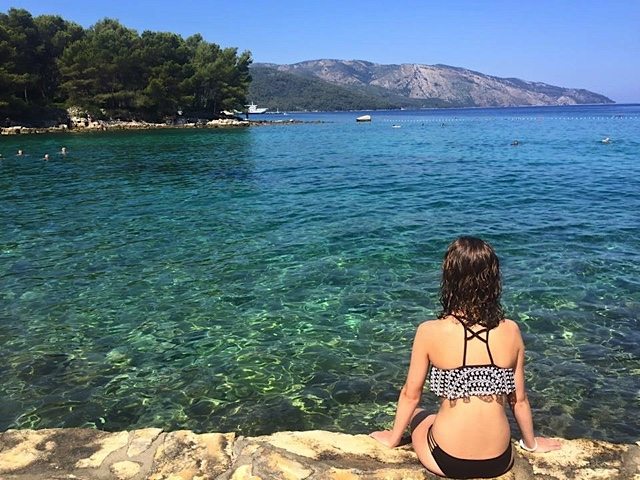 Little Miss (now aged 17) is more of a typical teenager. She prefers sunbathing, clear seas for a bit of swimming, getting dressed up for dinner, cocktails and pottering around the shops. Thankfully, she is happy to try a few outdoor activities but this is not her main holiday entertainment.
So, as you can imagine, it takes a bit of searching when booking a family summer holiday that will have us all smiling.
A few years ago, Sardinia worked well. We each chose an outdoor activity we wanted to do and then we spent the rest of the time seeing the sights and attractions and lying on the beach. It proved a good combination.
Having cycled in Croatia on another holiday I thought it would be a similar sort of offering as Sardinia but with more city attractions thrown in. This time we also invited a friend, M, along for Little Miss. This worked a treat because it meant Little Miss had company of her own age.
What Croatia offers families
Croatia is welcoming and feels very safe. We saw no crime (apart for graffiti on buildings at the outskirts of cities and towns). Bikes were left unlocked, Croatians were genuinely keen to help and offer advice and when we spoke to local people they said the country has few problems with theft and violence.
The Teenage Twosome were free to go to the beach, swim in the sea, wander cities and towns and enjoy cocktails and snacks on their own and without the "annoying adult chaperons". I felt fine letting them do all this alone.
It's easy to mix urban and rural. We stayed in three different locations: Split city, Hvar island and Zadar city. The combination of city sight and entertainment plus easy access to beaches and countryside meant we could choose each day what we fancied doing.
Car hire made getting about much easier. There were four of us so it made sense to hire a car. We chose Sixt from many, many car hire companies and we were very happy with the service. It's not cheap but we ended up with a new car with plenty of room for baggage (teenage girls like to bring a lot of stuff). The car was also efficient and it drove well.
Croatia has smooth roads that are rarely busy. You can choose to travel a more winding coastal road on the mainland around Split or take the faster toll road. It costs about £4.50 each time you use it but it's smooth and fast.
As an example:
Split airport is about a 20 to 30 minute drive from Split city.
Krka National Park is about 1 hour 10 mins from Split city.
Zadar is about 1 hour 45 mins north of Split on the mainland.
Wowser waterfalls: I am often sceptical of guide websites and leaflets that encourage you to visit an attraction. However, Krka National Park  truly lived up to the photos and its reputation. For the cost of around £10 each we enjoyed a boat trip along the river to reach the waterfalls area.
We then wandered a brilliantly created boardwalk to visit a range of different waterfalls and clear pools. It was like visiting a real-life open-air aquarium!
And the waterfalls were utterly fantastic. We were able to swim in a clear water lagoon beneath the high falls. We all throughly enjoyed the day trip. Seeing really is believing at this attraction (for once!).
There are plentiful ferries serving numerous islands. Part of the attraction Croatia for me is the islands. On our cycling trip the G-Force and I cycled from Dubrovnik to Split via several islands including Korcula, Hvar and Brac. Travelling to an island always feels like a great adventure and I wanted to show Little Miss what I meant by this.
From Split we reached Hvar Island, arriving at the small port of Stari grad. We took a car ferry with Jadrolinija at a cost of around £110 for the car and four adult passengers return.
A tip: You can book the ticket on line but you have no guarantee of getting on a ferry. You need to turn up at least 1.5 to 2 hours before the ferry time  in the high season. Park you car, leave it there until 30 mins before the sailing.
On Hvar Island, from Stari Grad to Hvar town where we were staying was a 20 minutes drive.
History and entertainment. Croatia itself oozes history. From Roman times through several wars and times of civil upset there is so much to discover and learn. Every city and town has an old quarter and these are great places to wander around.
This is great for adult and teenagers because there are lots of buildings and sights to ooh and ahh at.
Hvar island is lovely. The isle is home to Hvar town, which is a beautiful settlement boasting much historical and cultural interest. I took the time to walk to the castle perched high above the town. There's a stunning limestone centre square and many side streets and alleyways filed with shops and restaurants to explore.
Hvar is popular with the rich and famous. But don't let this put you off. It's brilliant for people watching and although it can be a bit pricier for food and drink it's a superb place to visit for a few days.
The Teenage Twosome loved it because of the number of young people about. The G-Force and I preferred it in October when we visited the last time because it was quieter and had fewer loud "yah" types!
Hvar is popular as a place for large yachts to visit so in the summer months it is very busy. Stari Grad is a quieter place to stay if you prefer less people but Hvar town is buzzing and fun.
Island active fun: I spent time before our holiday researching where to do a few outdoor activities while in Croatia. I thought we would all enjoy kayaking and Stand Up Paddle Boarding. I also wanted to hire a good quality road bike for a day.
In the end I chose Hvar Life. Trip Advisor reviews looked good and when I emailed them they were responsive and helpful. I booked the kayaking before arriving in Hvar via a secure website.
Kayaking from Hvar town

The kayaking afternoon was excellent. We enjoyed a private outing led by Kristian. We had double kayaks because the TT are less experienced kayakers and this worked really well because we could cover a good distance at a fair speed.
From Hvar town we paddled to Marinkovac island, one of dozens in the bay, where we enjoyed a pasta meal, a glass of wine and time to sunbathe on a beautiful beach, Cove Zdrilca, and go snorkelling. It was pretty good value for money at £44 each and did not feel rushed.
SUPs from Hula Hula beach
We hired Stand Up Paddle Boards (SUPs) at the Hula Hula beach along the coast (walking distance) from Hvar town. We paid 100 kuna (£11) each for an hour of SUPs.
I had tried SUPs on Loch Lomond before and thought it was easy. On the sea, with the incoming waves and many more undulations caused by passing boats it was a lot trickier! The G-Force found it was too much like hard work and simply knelt down to paddle. Little Miss spent most of the outing sat down but still effectively paddling.
M and I got the hang of it after a while and managed to spend most of our time standing up and paddling. The view from your standing up vantage point is wonderful. We skirted the coast along a rocky shore and to high cliffs travelling on the amazingly clear waters of Croatia's coast.
Climbing on Hvar
There are lots of great places to climb in Croatia, including Hvar island. The G-Force thoroughly enjoyed his evening of climbing with the female guide from Hvar Life. We were not charged for this activity because we booked so many other activities on the one trip.
Cycling from Hvar town to Stari Grad
My carbon Pinarello bike was delivered to my accommodation by Hvar Life. It was an excellent bike. I paid about £40 for the day which was costly but if I'd hired for more days the cot per day would have been less.
I followed Ruta (Route) 1 from the town to Star Grad and back. It's not an easy ride and involved climbing up and up in very hot temperatures. However, the views are stunning.
I enjoyed cycling next hillsides covered in highly scented lavender, listening to noisy cicadas and looking out over craggy rock faces, hills and the beautiful coastline. The descents after the long climbs each way were fantastic!
At Stari Grad I stopped for an hour or so to have a bite to eat with the G-Force, who had driven to meet me on the faster and flatter coastal road.
Another city to recommend: When asking on Facebook about where to stay in Croatia someone recommended Zadar. The descriptions looked favourable and I fancied a third location in our holiday.
I think the Teenage Twosome would happily have skipped Zadar for more beach time in Hvar or Split but G and I really liked Zadar. It's a less touristy city but still boasts a beautiful historic centre.
Food and drink is cheaper here and there are far less people, especially the yahs!  (Bonus for us, but perhaps not so for the TTs!).
We also visited nearby Nin. Located on a causeway island and surrounded by lagoons this historic settlement is well worth a visit. It's home to what is claimed to be the world's smallest cathedral.
14 more things to like about Croatia
Flying to Croatia from Scotland is straightforward and relatively cheap. We flew Glasgow to Split with Easyjet. You can fly to Dubrovnik from Edinburgh.
You could combine a holiday to Italy with a ferry trip to Croatia. There are lots of sailings from Italy to Croatia.
Croatians speak excellent English. The language in Croatia is very had to understand and pick up so it was great to find that almost everyone spoke good English.
Despite the weak British pound Croatia remains fairly cheap for accommodation, food and drink.
We booked AirBnB accommodation and found it to be of a high standard. The hosts were excellent.
The summer is very sunny (although it can feel very hot if there is no breeze) and the sea is warm.
We ran one early morning in the park in Split. It's a great place for a cool-ish morning jog and we passed lots of people doing the same. The views from the top of the park over Split and the coast are breath-taking.
Quality of service in restaurants is mostly excellent. The Croatians rely on the tourism economy so they value it highly.
The tours, trips and activities were mostly good value for money.
The fish dishes are superb.
The Croatian wines, both white and red, are delicious.
Try Croatain lemon beer. It's like shandy and very refreshing.
When it rains in summer the rain is warm and it only last about 10 minutes.
Zadar was named best European destination this year.
Don't miss the Sea Organ at Zadar. Hearing is believing! (The Sun Salutations light display was less impressive.)
A few down sides
The British pound is weak just now. This means the cost of being in Croatia is much pricier than even a year ago.
I read that it's better to change currency in Croatia itself but I found this to be untrue on this trip. (Look around for the best rate you can at home and take cash as well as a travel style credit card. I use a Halifax credit card that does not charge me commission when using it abroad.)
The beaches are not as sandy as in other Mediterranean countries. I actually prefer pebble beaches because I can't be bothered with sand but it does make it less comfortable for lying on. You can buy sun beds (around £4 to £5.50 per day to hire) or take a lightweight camping mat. Make sure you have shoes for the beach as well.
As I have already mentioned it's very hot in summer. I would advise you go early or late summer/autumn if you prefer your holidays to be a bit cooler. It's still a sunny country even if you don't go at the height of the season.
I found Hvar town to be a bit noisy and crowded. The TTs loved it but I thought there were too many posh people! The place seems to be very popular with ex public school types and rich people with yachts. It's an observation rather than a criticism. It's fun and lively place but if the sound of privately educated "okay-yah" accents annoys you I'd recommend going in later summer or choosing other places in Croatia.
Visit Croatia, it is a destination that suits a wide range of holidaying aspirations and offered us an excellent week for both adults and teenagers.