Enjoy the journey: Back country ski touring in the Cairngorms
G and I enjoyed a journey by skis in the Cairngorms with Blair Aitken of British Backcountry. We learned much more than we expected…
No snow, no go?
Earlier this winter, we booked a one-day skills course with British Backcountry in Scotland. After last year's bumper Scottish snow season, G and I were looking forward to exploring more of the expansive back country terrain on skis.
No one could have predicted how mild the winter would be and I confess I was surprised when our guide, Blair Aitken, the founder of British Backcountry, decided the course would go ahead.
Apparently, the snow cover wasn't too bad in the Cairngorms and, he reckoned, the forecast showed more snow to come the day and night before our day in the mountains.
We trusted in his wealth of experience and turned up at the Cairngorm Mountain base on Saturday at 9am to join group of other skiers, as well as Amy Marwick, another very experienced ski instructor.
Blair used to be a school teacher but he gave that up to become an outdoor instructor. He revealed that he finds is difficult to be cooped up indoors all day and he truly loves being outdoors in Scotland in all weathers. He also instructs in the Alps but he told us his first love is Scotland.
Amy is a talented freeride skier and BASI level 4.
A journey by skis
Back country skiing, especially in Scotland is different from other types of skiing. It combines:
Skinning up – using skins attached to the base of skis to give grip so that you can walk-glide uphill on snow. Heels are also free to move up and down off the bindings to aid the walking process.
Traversing –­ this could be on skis over snow, ice and rivers or without skis. (See boot packing)
Boot packing – if the terrain becomes too steep or icy, or if there is not enough snow cover, you might choose to walk in your ski boots and carry skis on your pack.
Downhill skiing – similar to traditional in resort skiing although not on smooth pistes. Back country downhill skiing will usually be more challenging and on a mix of snow, including powder, hard packed and sastrugi*, as well as icy patches and often heather, too.
*sastrugi – wind blown snow that forms into irregular grooves or ridges. It is often beautiful to look at although not so easy to ski over.
I would describe back country skiing as:
A journey
The experience of getting from A to B, mostly by use of skis, through a mix of terrain
Often surrounded by amazing landscapes
Always different
Wild and remote… yet accessible
Challenging yet rewarding
Exhausting.
Just to note, what this type of skiing is generally not:
Easy cruising on groomed slopes
Predictable
Flattering
Aided by lifts.
A journey with British Backcountry
Having assessed the conditions and weighed up the options, Blair was keen to lead our group on a journey by skis to reach the "beach" at Loch A'an (Avon). The loch is a remote and set deep within the central Cairngorms plateau, in the Cairngorms National Park.
We left the car park at Cairngorm Mountain base (where the Day Lodge is located) to skin up via the front slopes of the resort. Given the recent lack of snow – although Cairngorm does have a snow making facility – the usual pistes were not groomed or in use.
We zigzagged upwards, mostly staying close to the line of the out-of-use funicular railway line and at first on the "Lower Slopes" and then on the route of the "White Lady".
To begin with, we were relatively sheltered from the forecast wind and we enjoyed more sunshine and blue sky than expected. With a group of fit people, we made a fairly swift ascent.
At times I relished the peace and quiet of my own thoughts as we skied in a line behind one another.
I rather like the rhythm of ski-gliding uphill and the changeable gradient, pace and widening views are usually more than enough to keep me focused.
However, as anyone who knows me will vouch, I do enjoy a bit of chat. At times it was great to ski side by side with someone else and find out more about their life, work and hobbies.
Blair and Amy also kept the group together, stopping every so often for a breather and to relay some important tips and advice.
Part of the aim of the course was to learn how to avoid back country dangers, such as avalanches and poor route choice, as well as to discover some of the best areas for skiing off-piste in Scotland.
As we skied higher, the predicted wind and snow showers became all the more apparent. I had convinced myself that we were going to be really lucky with the weather but as I struggled to stay upright due to the buffeting wind, I changed my mind.
I knew I was going to dig deep – and use my extra clothing layers – to enjoy the rest of the day.
Finally reaching shelter behind the (closed) Ptarmigan Top Station, I gratefully added an extra down jacket layer (my Mammut Broad Peak Hooded jacket) and my Berghaus Ulvetanna Mitts (please, please bring these back into manufacture because they are the only gloves that save my hands from a complete freeze.)
You never know who you might bump into
We came across another small group of people huddled into a small group behind the Top Station. It turned out it was the top Scottish snowboarder Lesley McKenna and her partner Euan. They were part of a Protect Our Winters filming day. If it had not been quite so cold and windy I would have stopped to find out more…
The ski descent to Loch A'an
Loch A'an has to be seen to be believed. Its location is extraordinary, sitting high on the Cairngorm Plateau and amid some of Scotland's most majestic mountains, including Cairngorm, Bynack More, Ben Macdui and Braeriach to name a few.
When the mountains are blanketed in snow, right to the water's shore, the view is even more breath-taking.
All this was laid out before us as we started a somewhat alarming descent from the Top Station. By now we had removed our skins, so the skis could slip downhill.
Buffeted by a strong wind from behind I felt a little out of control and several times I had to perform a snow plough simply to slow my speed. The experienced skiers in our group fared far better than me and, annoyingly, the more I tensed up the more my technique suffered.
I cursed and gritted my teeth, trying my best not to lose grip and control.
And then, just as I was wondering how I would get through the rest of the day, the wind suddenly dropped, which created a very different experience.
In calmer conditions and now following Blair's line directly, I found myself enjoying a few sweeping turns on a fresh powder slope. The slope was gentler and the snow felt amazingly grippy.
I would not describe the skiing as straightforward – the short sections of snowy slopes were linked together with traverses through rocks and patches of heather – but my overall sense of enjoyment improved.
Blair was determined that he would find us a route to the loch shore and I loved how he enthusiastically navigated the way.
I am not sure we would have done the same if we had been on our own because we were aware that the further we descended the more we would need to re-ascend but I confess that the achievement of making it to the edge of Loch A'an on skis was surprisingly uplifting.
We "transitioned" from downhill skiing mode to uphill skins and after a snack we began the route of ascent. I think that many of us were feeling a little tired and the pace was a little slower than earlier in the day.
Again, Blair led the way, picking out a zig-zagging route on the best and safest snow. The weather couldn't decide what to do and we were alternately battered by strong winds, chilled by swirling snow and warmed up by sunshine.
I rather like the changeable Scottish weather. Although a blue sky and bright sunshine is preferable, when the conditions are continually changing it's easier to appreciate the "good spells" and the resulting views compared to a day of always being able to see far and wide.
Am I peculiar to think like this?
Also, if we didn't experience poorer weather we would never learn how to cope in tricky conditions.
The hardest section
The toughest section of the day by far was the strong winds that returned in full force and ahead of us as we skied across the plateau and back towards the front side of Cairngorm Mountain.
I was unable to move forwards at times because the wind was so strong and on numerous occasions I had to stop to steady myself from falling over. The chill was very unpleasant and as hard as I tried I could not cover all the skin on my face.
My cheeks, nose and upper lips felt extremely cold and when the wind was blowing at its hardest I felt like I had "ice cream brain". I have only had that in cold water before.
All we could do was push on in silence, hoping we would reach calmer terrain shortly. Despite the hardship, I was amused by the thought that we looked like a waddle of penguins. Each of us was bent over, trying to make headway but still looking out for a neighbour to ensure that no one was left behind.
The final push for home
Blair was keen to ski Coire na Ciste, a corrie close to Cairngorm Mountain resort, rather than retracing our ski lines via the White Lady. It sounded like a great idea, especially as we hoped to further explore the mountain – and test our off-piste skiing skills.
Unfortunately, the snow was not quite what Blair has hoped for. This was not his fault at all, rather the snow had no accumulated as he had thought it might.
In better conditions we would have been able to enjoy a wide and not–too-steep gully with stunning views back towards the valley. We did find some sections of fresh snow to ski but we also encountered ice, rocks and a surfacing river.
This in itself presented new challenges and gave another opportunity to teach skills of how to observe the terrain and find best-descent routes.
Further down, the snow started to peter out and we got to try something that few people encounter unless they head back country in Scotland: Heather skiing.
At first I was nervous. If the ski tips catch a large patch of heather you might easily be thrown off balance and head over heels. But my off-piste skis were rather good for this type of skiing.
The tips are raised and by leaning slightly backwards, moving the weight off the front of the skis, I found I could move fairly effectively over the snowy heather.
It was in interesting way to end a day of back country journeying by skis, and, I felt, only added to the rather extraordinary overall experience.
Removing our skis and attaching them to our packs, we made the final descent on foot, tracing a rocky and boggy path back to Coire na Ciste car park.
We were all tired but happy with the way the day had gone.
As Hubby G said: "We got the best of a bad day with an experienced guide, instead of us enduring the worst of a bad day on our own."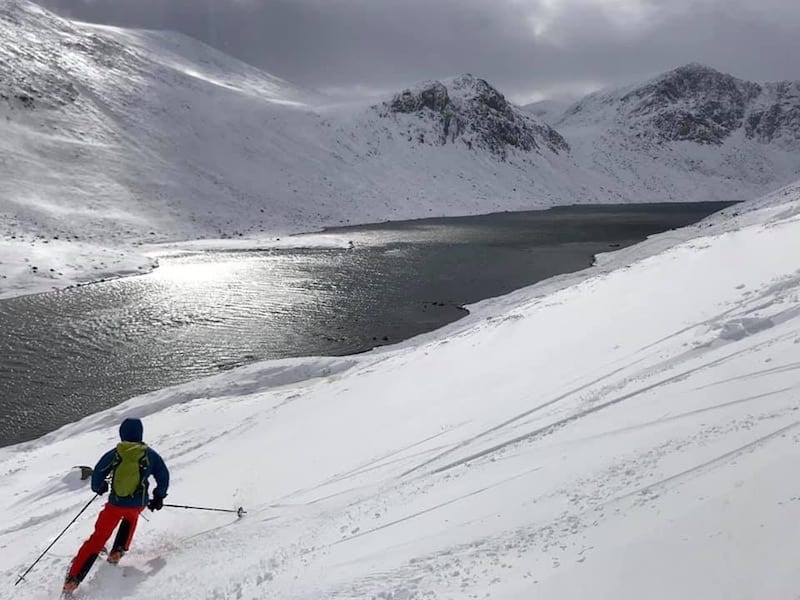 What I learned back country skiing in the Cairngorms
Here are a few things I learned while back country skiing in the Cairngorms.
Trust in the experts
Blair managed to find a way-above-expectations ski touring route in the back country terrain of the Cairngorms.
While his first choice had been Glencoe, the weather forecast (terrible west, better east) meant he switched the plans to Cairngorm.
Even then, the snow did not look too plentiful yet Blair guided us on a route that was surprisingly skiable and rewardingly beautiful.
Blair also used his local knowledge to take us where the snow conditions were the safest. While we did spot some slopes of what looked like fabulous powder, Blair decided they were no without risk of avalanche.
Enjoy the enthusiasm
Blair's obvious joy at being in Scotland's outdoors environment, whatever the weather, is infectious.
Amy was also enthusiastic about her return to Scottish skiing having spent time in the Alps.
Embrace the snow
Even if the snow looks patchy and thin in places, there might still be a route that is skiable.
I was endlessly amazed by how Blair found a way through tough terrain and what turned out to be a perfectly reasonable skiing route.
We did not need to remove our skis until the very last section of boot packing lower down the valley and above the Coire na Cisite car park.
Be prepared to make changes
Throughout the day, it was clear that Blair was making changes and adjustments to the route and course of the day. His experience allowed him to do this and we were grateful for his expertise and making the best of a tricky winter's day.
Don't be too proud
I admit I struggled with some of the terrain and the icy conditions. Blair offered to lead me more closely and to assist me in places. I could have been taken offence at this but I decided I would prefer to be sensible and enjoy the day to the best of my ability.
Allowing Blair to take the lead for me – and show me the way – was immensely helpful and reassuring. It also meant that I did not hold up the others on the descents, where I could easily have come to a messy halt.
There is a lot to learn
While I have skied a fair bit of off-piste terrain and some back country in Scotland, there is still a lot to learn. Blair is very knowledgeable and he has a very good way of communicating tips and skills.
I would recommend a ski course with British Back Country and I might well book another myself.
The weather is a great teacher
It would be possible to venture out only in good weather, although you might have to wait many months in between ski tour outings in Scotland for favourable conditions.
However, so long as you are safe with an expert or experienced skier, you can learn a lot from changeable weather conditions.
For example, I had no idea how to cope with wind-assisted – and wind desisted – skiing. It was a steep learning curve.
I also learned more about the sort of kit and clothing I need to carry with me on ski touring days. We are heading to Norway for a ski touring holiday and it was useful to gain an understanding of the extra layers etc we will want to carry with us.
Heather skiing is unique
I'll let you try it to truly discover what it is like to ski over snowy heather.
To find out more: See Blair Aitken and @BritishBackCountry
Thanks to Blair for allowing me to use some of his photos.
Other skiing in Scotland blogs:
Read four more blogs about skiing in Scotland: