I am frequently asked to recommend walks close to Glasgow. Many people are also keen to use public transport to access these walking routes. Here is my list of my favourite walks (or runs) within reasonably easy reach of Scotland's largest city.
Note: Height gain refers to the difference between the lowest point and the highest point, rather than the total ascent.
Note 2: I am not giving times for these walks. We all walk at different speeds and there are walks with more elevation than others. I would suggest that if you include the travel you should allow a half day for each route.
1 Dumgoyne, near Killearn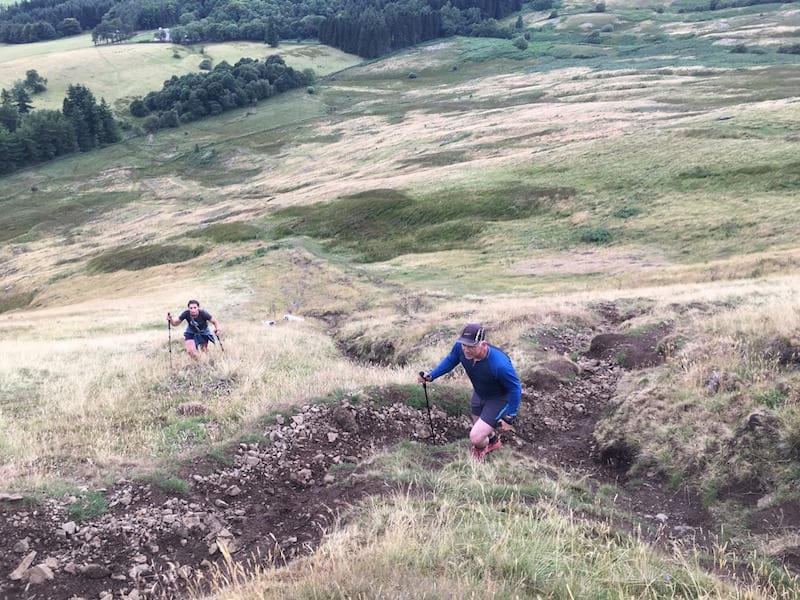 Distance: 4km / 2.5 miles
Height gain: 390m
Start/finish: Glengoyne Distillery on A875.
Public transport: The no.10 bus (destination Balfron) departs from Buchanan Bus Station, Glasgow. Get off at Glengoyne Distillery. See Traveline Scotland.
This is a short but steep hill walk that offers very rewarding views of the surrounding countryside.
Dumgoyne is a prominent hill in the Campsie Hills with a summit height of 427m. It sits behind Glengoyne Distillery on the A81 so you could enjoy a distillery tour afterwards, or for a longer route walk (almost 7 miles) go on to Earle's Seat, the highest point in the Campsies.
When ascending Dumgoyne after climbing the stile over the fence, I usually choose the path that heads up the left-hand side of the hill. Once I reach a path that traverses the side of the hill I follow this to the top. Other walkers head straight up the middle of the hill but this is the steepest way to go.
For route details.
And for Dumgoyne and Earl's Seat route.
A polite request: If you enjoy my articles and/or been inspired to adventure, please do donate a little to keep me writing and researching.
2 Conic Hill, Balmaha
Distance: 5km / 3 miles
Height gain: 360m.
Start/finish: Balmaha car park, just off B837
Public transport: Train from Glasgow to Balloch and then Bus no.309 from Balloch to Balmaha.
Another great wee hill that does require a bit more of a drive/pubic transport to reach but the efforts are rewarded with superb views across Loch Lomond and its myriad islands.
It's an up and down walk that is steep in places. You can extend the walk to form a circular route of around 6.5 miles.
Conic Hill is also part of the West Highland Way.
See Conic hill routes..
3 Milngavie to Drymen, West Highland Way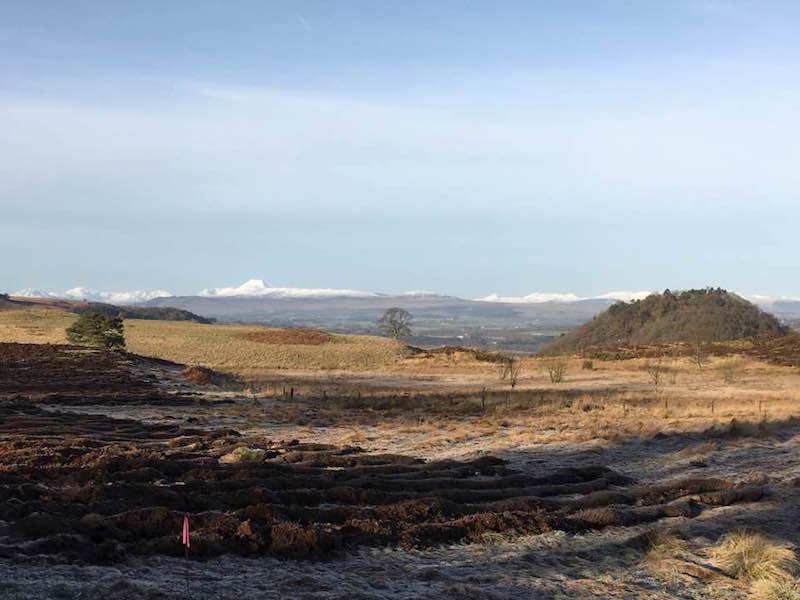 Distance: 19km / 12 miles
Height gain: 89m
Start: West Highland Way starts in Milngavie shopping precinct. Follow signs from the train station.
Public transport: Train from Glasgow to Milngavie.
Finish: Drymen
Return: Use Traveline Scotland to plan transport options. You will need to travel by bus as there are no trains from Drymen.
The first section of the West Highland Way (the full 96-mile route extends north to Fort William) offers a lovely introduction to this famous walking trail.
It leaves Milngavie to head through pretty Mugdock Country Park and then into more open countryside. You'll see the Campsie Hills – and Dumgoyne – in the near distance.
Drymen is a popular tourist village en route to Loch Lomond.
See West Highland Way stage one.
4 The Whangie, Kilpatrick Hills
Distance: 4.4km / 2.75 miles
Height gain: 140m.
Start/finish: Queen's View car park on the A809
Public transport: See Moovit
The Whangie is the name for a strange rock formation in the Kilpatrick Hills. The rocks look as though they have been slashed down the middle. It is an amazing geological feature and well worth seeing. You can walk between the walls of rock.
The walk includes a hill climb but it's relatively shallow. It can be muddy and the rocks may be slippery after rain.
There are lovely views over Loch Lomond and towards the Campsie Hills. Compact binoculars will come in handy.
For an extra short climb head to Auchineden Hill trig point.
See Whangie route.
5 Burnbrooks Reservoir Circuit, Carbeth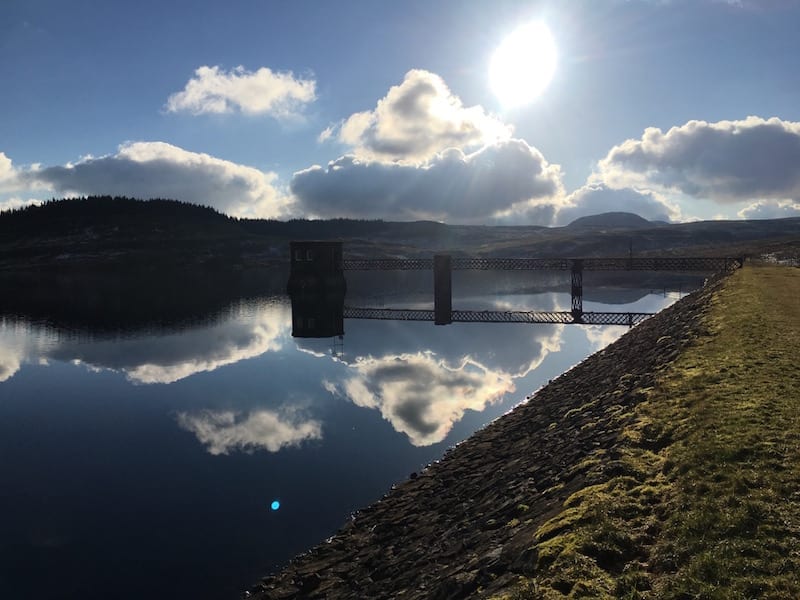 Distance: 10km / 6 miles
Height gain: 108m.
Start/finish: Edenmill Farm Shop and cafe on Stockiemuir Road (A809), just past Carbeth in Stirlingshire. There is a large car park.
Public transport: This is a tricky one to reach by public transport. If you do not have a car I suggest you take the train to Milngavie with a bike and then cycle the West Highland Way, cut off to the John Muir Way at Carbeth and on to Edenmill Farm Shop.
One of my favourite local running and walking routes, the Burncrooks trail was created as part of an extension to the John Muir Way a few years ago. Read this blog.
The walk leaves Edenmill Farm shop car park on a tarmac road and then on to a wide gravel track. It climbs steadily up to reach the reservoir, nestled in the Kilpatrick Hills.
You can choose to walk clockwise or anticlockwise around the reservoir. The easiest way to navigate is by following the John Muir Way signposts and then leave that behind to complete the circuit.
The path around the reservoir is surprisingly hilly!
6 Duncolm and the Slacks, Old Kilpatrick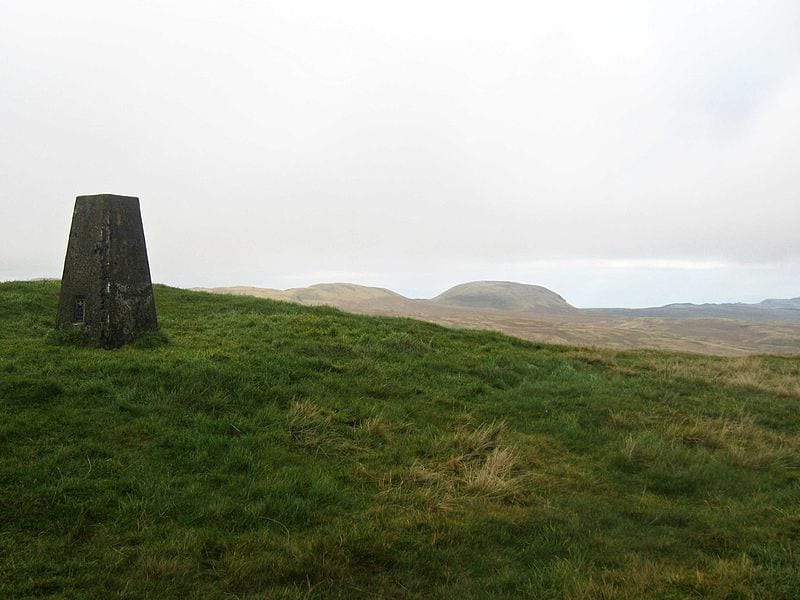 Distance: 15km / 9.5 miles
Height gain: 390m
Start/finish: Kilpatrick Braes car park, Old Kilpatrick.
Public transport: Take a train from Glasgow to Kilpatrick Station.
Duncolm is the highest point in the Kilpatrick Hills and also in West Dunbartonshire. It rises to 401m.
The walk is on tarmac and tracks to reach Loch Humphrey and then on hills paths. It can be a bit soggy in places so wear walking shoes or boots.
See the route details.
7 Greenock Cut, Inverclyde
Distance: 11.5km / 7.25 miles
Height gain: 60m
Start/finish: Greenock Cut Visitor Centre, Clyde Muirshiel Regional Park.
Public transport: There are hourly trains from Glasgow Central to Drumfochar Station in Greenock. You will alight just five minutes on foot from stage three of the Walk Highlands route. See below.
The Greenock Cut is an aqueduct that was built in the early 1800s to supply water to the settlement of Greenock from Loch Thom. Today, it is a designated Ancient Monument.
The walk is not too strenuous with only one gentle, although fairly long, hill. The terrain is tarmac, tracks and footpaths.
The views over Greenock, the River Clyde and, in the distance, some of southern Scotland's highest peaks are wonderful, especially on a fine day.
For route details.
8 Chatelherault Country Park, near Hamilton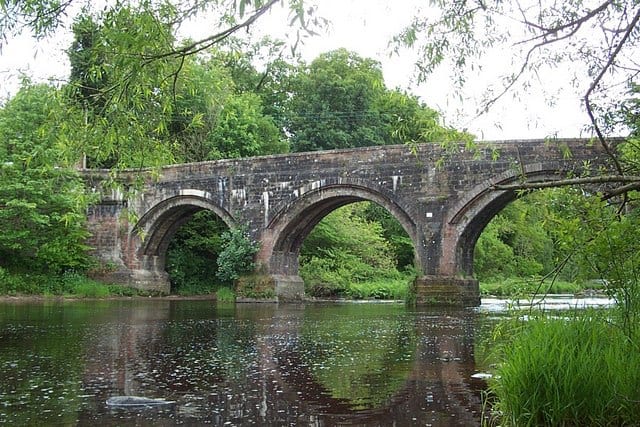 Distance: 7.5km / 4.75 miles
Height gain: 60m
Start/finish: The Visitor Centre at Chatelherault Country Park.
Public transport: Take a train to Chatelherault rail station, which is opposite the entrance to the park.
This circular route is easy to follow within the Clyde Valley Woodlands National Nature Reserve. You'll also climb above the Avon Gorge for some lovely views.
The route follows hardpacked trails and paths but can be a bit muddy in places.
Check out the walking route.
9 Helensburgh to Balloch, John Muir Way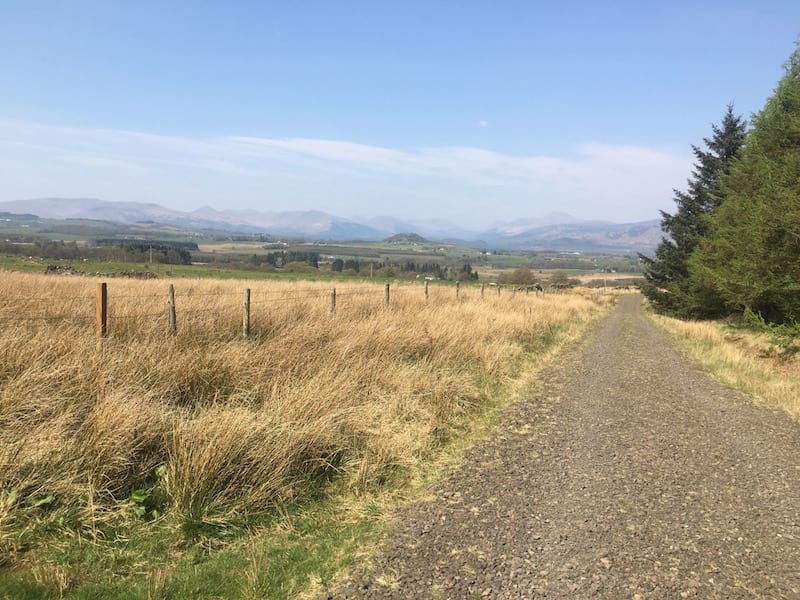 Distance: 15km / 9.5 miles
Height gain: 280m.
Start: Helensburgh
Public transport: Train from Glasgow to Helensburgh.
Finish: Balloch
Public transport: Train from Balloch to Glasgow.
The John Muir Way extends 134 miles cost-to-coast across Scotland, from Helensburgh to Dunbar. It is one of Scotland's Great Trails.
John Muir was born in Dunbar in 1838 and set sail for America, where he spent most of his life, from Helensburgh. He became known as the Father of the National Parks in the US.
The John Muir Way in Scotland was completed and opened in 2014 to commemorate the 100th anniversary of his death. One of my favourite sections heads from Helensburgh to Balloch (or vice versa).
The terrain is pavements, gravel trails, grassy paths and a winding path through forestry.
Look over your shoulder as you ascend out of Helensburgh for wonderful views over the town and the west coast. The vista as you descend towards Balloch takes in Loch Lomond, its many islands and the hills and mountains close by.
See John Muir Way: Helensburgh to Balloch.
10 Falls of Clyde, New Lanark
Distance: 10.5km / 6.5 miles
Height gain: 70m.
Start/finish: New Lanark Visitor Centre, near Lanark.
Public transport: Take a train form Glasgow Central to Lanark. To reach New Lanark there are various options: Walk 1.5 miles; take a taxi; or for local bus times see Stuart's Coaches.
New Lanark is a fascinating 18th century mill village that is now designated a World Heritage Site. In the late 1700s, and during the industrial revolution, the mill was built to make use of the power of the River Clyde for spinning and weaving cotton.
The mill was managed by Robert Owen from 1800 to 1835 and he is now famous for his revolutionary ideas and opportunities, which transformed the lives of the mill workers.
It's worth spending time looking around the mill and village before or after this walk.
The walk leaves the visitor centre and heads to the stunning Falls of Clyde.
There is a shorter out-and-back walk to the falls, while this route forms a circuit following the east and west banks of a wooded gorge.
You'll see a series of waterfalls including the biggest Corra Linn, which was immortalised in poetry by William Wordsworth. He described the falls as: "The Clyde's most majestic daughter."
If you have any other ideas for great half-day walks from Glasgow please do email me.