BBC Scotland will air a film about blind climber Red Széll, Shared Vision: An Adventure Beyond Sight, on Friday (August 14) at 8.30pm.
The story of Red
As a teenager in the mid-1980s, Red Széll watched a BBC documentary featuring Chris Bonington and Tom Patey climbing the Old Man of Hoy and knew "life wouldn't feel complete until I'd at least tried to follow in their footholds". 
He began to climb and had Hoy firmly in his sights until an eye examination shortly before his 20th birthday revealed that he was going blind. He has a degenerative eye disease, Retinitis Pigmentosa, and is now blind.
For several years his life went into free-fall and his dreams were obscured by his struggle to adapt to his darkening world.
The road to recovery began in 2009 when his daughter chose to hold her birthday party at a local climbing wall and Red saw a way back to the sport he loved.
In 2013, he realised his dream and climbed The Old Man of Hoy, becoming the first blind person to do so. His achievement was televised by BBC Scotland in an episode of The Adventure Show.
The following year Red reassembled the same team of climbing partner Matthew Wootliff, mountain guides Martin Moran and Nick Carter for a successful attempt on The Old Man of Stoer.
The third of "The Tom Patey Three" big Scottish sea stacks, Am Buachaille, eluded him – until last summer.
Red says in Shared Vision: "It's basically an extreme obstacle course."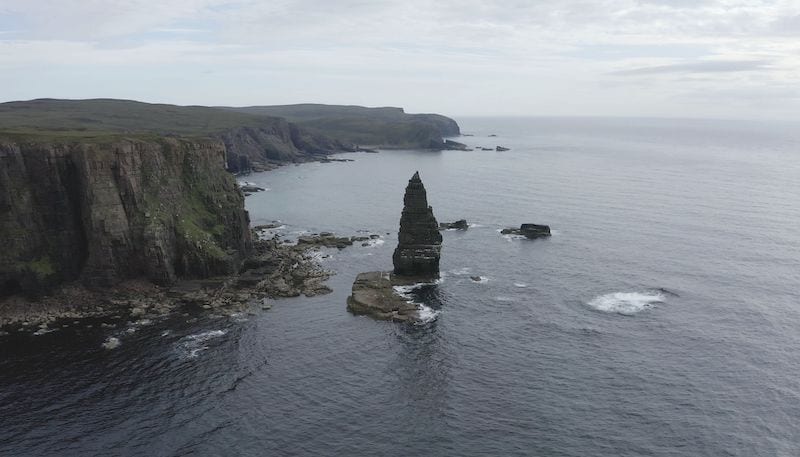 The film: Shared Vision
The captivating documentary of the expedition was created by award-winning filmmaker Keith Partridge, who was the specialist cinematographer on the BAFTA winning film Touching The Void.
The film offers us a glimpse into the restrictions of Red's everyday life in London and the freedom he finds on barely accessible rock pinnacles.
Keith has produced an enthralling film with some stunning cinematography. The soundtrack reflects the importance of communication between Red and his companions Matthew and Nick, and with each hard-won metre of progress, we learn that this is indeed a shared vision of adventure, camaraderie and challenging the perception of disability.
As Red puts it: "It's about seeing what you can do rather than focussing on what you've lost."
The film is dedicated to Martin Moran, "…who guided so many to new heights" but was tragically killed on Nanda Devi in 2019.